About Us
Imagine the scene... tables covered in ingredients, kitchen mixers whirring away, recipes, ideas and quantities being scribbled down and some very hungry labradors, noses pressed against the back door waiting for 'tasting time'.

A simple idea to produce nutritious, premium raw dog food for his own dogs led Ben Van Praagh to develop our first recipes around his kitchen table, surrounded by his pack of working dogs.
The Story of Benyfit Natural
It started as just an idea to produce premium raw food for dogs using the same quality ingredients that humans eat – and all natural.
The first recipes evolved around a kitchen table and the resulting food was given to friends' and family dogs. It quickly became apparent that this idea was something special and completely different to other raw dog food available. We saw that the dogs had shinier coats, firmer stools and bundles of energy. This food made dogs even better versions of themselves.
So the recipes and process was upsized, advice sought from nutritionists and vets and the best sustainable ingredients sourced... and Benyfit Natural was born.
Benyfit Natural Taste Testers
We're a team of dog lovers and that means our office always has an open door policy for our four-legged friends. Meet just a couple of our office dogs who get to quality control and taste test all our delicious Benyfit Natural recipes.
Lettie + Bea
They may be little, but their bellies are big,,,
Age: 1 + 2
Breed : Miniature Daushaunds
Parent: Maddie, Key Account Manager
Favourite Recipe: Tasty Turkey

"We love being the smallest pups in the office... we can sneak around and steal the others treats and everyone always want's to give us cuddles!"
Bertie
Covered in fluff that hides his tummy full of treats...
Age: 1
Breed : Cockapoo
Owner: Sally, Head of Digital
Favourite Recipe: Lamb Meat Feast
"I love Benyfit Natural as my Mum says I have SO many allergies and this stops me from itching. I'm a pro sleeper, but always wake up for testing time."
Isla
Living up to her labrador name, Isla's bowl never stays full for long...
Age: 1
Breed : Labrador
Owner: Emma, Field Sale
Favourite Recipe: Everything!
"If they want to know if something tastes good, i'm always the first in line. I'll eat anything and everything, so everyone needs to watch their treats!"
Meet the Team
The Story So Far...
2010
2012
2014
2015
2016
2017
2018
2019
2020
2022
2023
Why Benyfit Natural Raw Dog Food is the Right Choice!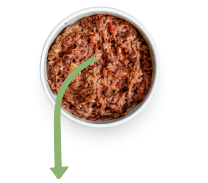 We know you're spoilt for choice with raw dog food, but we know Benyfit Natural stands head and shoulders above the rest. We've been making raw dog food for over 10 years, we're the experts and we only create food that is nutritionally the best for your dog.
From better skin, stronger joints, cleaner teeth and shinier coats to helping to overcome digestion problems, constipation, diarrhoea and weight issues. Our food is designed to mimic the diet that dogs ate in the wild - so no fillers, cereals or processed elements. Just 100% balanced and nutritionally dense.
As well as the benefits to dogs, we are also passionate about the impact Benyfit Natural food has. All the meat we use is ethically sourced, human-grade and we have a testing process that enables us to have full traceability from field to bowl.
Our manufacturing process is Defra-approved and recipes meet stringent FEDIAF guidelines, this ensures they are nutritionally balanced. We work closely with vets and nutritionists to ensure every product we make and manufacture is best for your dog, as well as lick-smackingly delicious too.
We're making steps to improve our environmental impact too. We use cardboard wherever we can and have recently switched our tubs to POP (Prevented Ocean Plastics). This big step for us ensures we're not adding new plastics, using plastic that otherwise would end up in our oceans, and plastic that is 100% recycblable too, driving towards a circular economy.
If that's not enough, we also pride ourselves on being dog lovers first & foremost. We have a team of raw feeding experts to ensure our customers get the support they need throughout their raw feeding journey. We work with holistic vets to make sure we know as much as we can, and always put your dogs health & happiness first.